The Club 100 Catalog
Updated: 04-Apr-11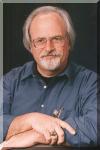 Club 100 offers most everything you could possibly ever want for add-ons, programming, information and support.
"There is nothing fancy about ordering Model "T" items from Club 100. I've helped fellow Model T users online since 1983 via the Club 100 BBS and phone. I'm the guy who processes all the orders and sweeps the floors. The buck stops here, briefly ... then I pay the bills and give the rest to my wife. So order with confidence and let's keep her happy. (grin)." __Rick Hanson, Proprietor, Club 100
To order ... simply use our online order form and fill in the information and any questions. Also, you can contact the club members using the Club100 mailing list (details on the home page).

Yes. You may purchase Club 100 products via PAYPAL but not via a shopping cart. Use the Online Order Form to order your items. Simply check the Pay by Paypal or Credit Card box. I will total your order, add shipping and get back to you with Paypal Invoice. Simply pay the invoice. When you do, I will receive an email statement and complete your order.
PLEASE NOTE: If you'd like to pay with a credit card, check the box as mentioned above. I will send a Paypal Invoice which you may pay using just about any of the popular credit cards ... and, you do not need a Paypal account to be able to pay the Paypal Invoice with your credit card. Is that nifty or what?
---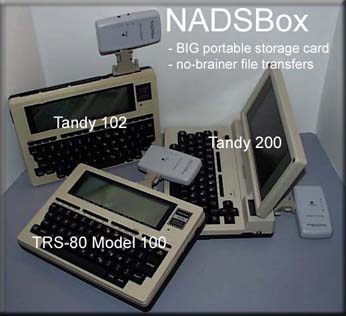 TRANSFER FILES BETWEEN
a MODEL "T" COMPUTER and a PC or Mac
...the NADSBox solution
The Hot Setup: The #1 use of a Model 100/102/200/WP-2/8201 today is using it for remote data collection, then transferring the files to a PC. The ABSOLUTE EASIEST WAY to do this is with a New Age Digital Storage Box (NADSBox).

Two reasons to own a NADSBox: 1) Portable mass storage to a media card, and 2) Media card is readable by a PC or Mac card reader, i.e., easy file transfers. Yeah that's it but oh baby is that ... fantastic!!
Plugs into the RS232 port of any Model 100, 102, 200 (aka Model "T") ... and now supports the WP-2 as well.
Ready to run ... out of the box. Comes with connecter, media card, 2 AA batteries and a USB to DC power adapter cable.
Looks like a TPDD to the Model "T".
Save, load, rename, etc. files via any DOS, such as TS-DOS or from a command line in TELCOM (WOW!) ... like the old DOS prompt!
Uses an off-the-shelf SD, SDHC or MultiMedia card, such as SanDisk, Kingston, Lexar, etc. SDHC means support for the newest 16GB cards! That's 167,000 TPDD floppies!
When removed from the NADSBox and plugged into a PC, Mac or Linux card reader, the media card looks like a folder ... NO-BRAINER FILE TRANSFERS!!!
The NADSBox firmware can be easily upgraded in-the-field to take advantage of new features and code changes.
All support files will be hosted at www.Club100.org.
Let me say something really important in support of our Model 100s, 102s, 200s, WP-2s and NEC 8201a/8300s. The Model 100 came to us via Bill Gates and Tandy / Radio Shack in March 1983. It's been over 25 years and we are still here. WOW! And over all this time, the top wish list items have been portable mass storage and file transfers. Ken Pettit's NADSBox does both very well. NADSBox "is" the #1 tool that takes Model "T" computing into the 3rd decade and beyond. Every serious Model "T"er needs a NADSBox. Why? It works, it's cool and we need to stand up and support Ken. Let me also add that in the wings is REX by Steve Adolph. REX and NADSBox cross-support each other, i.e., you will be blown away by the team work. $195.00
---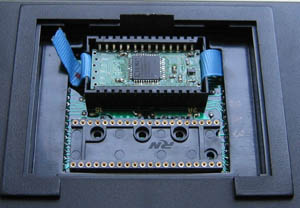 REX 100/102 -and- 200
REX ... the ultimate option ROM/RAM add-on. Until now, Model 100/102/200 were limited to use of only one option ROM at a time, and file storage required an external device. Those days are over. REX plugs into the option ROM socket, and via its user friendly management OS, users have access to 768 Kbytes of flexible flash based storage. Flash memory is both rewritable and erasable, yet retains its data with zero power draw, making it ideal for battery powered laptops like the Model T. This memory may be used for option ROMs, RAM backups and even file storage. With loads of file and program storage, and all the ROM software ever produced, REX is the ideal memory enhancement for the ModelT. In a word: Heaven! REX are priced at $60 each. REX are in stock and ready to ship
What does REX do for you?

First and foremost, REX makes using option ROM software easy by allowing the user to quickly select and switch between all of the available option ROM software packages. Option ROMs are loaded into the 1MB flash memory of REX from a binary file residing on TPDD storage.
REX also provides a quick and easy way to save the contents of your RAM. This is convenient for backing up work, and allows the user to rapidly swap workspaces in and out of REX so that multiple tasks can be accomplished.
Stored RAM images may also be used as storage areas for files, and files may be copied from saved images into the laptop's RAM for instant access.
REX is compatible with all TPDD protocol based storage devices - LaddieCon, Desklink, NADSbox, all work with REX.

T200 benefits

Compatible with 1, 2 or 3 bank systems
Supports all Option ROM software
---
The OLD WAY to transfer files between computers is to use DeskLink, a CompLink Cable, and TS-DOS on ROM. To be honest, you might already have an acceptable null-modem cable or adapter, and a Model "T" DOS and only need DeskLink. But if you don't, we have the software, you just need a source for the cable.

NOTE: There is a learning curve to cable-transfers ... geeks do well ... you might not ... see NADSBox for the rest of us.
DeskLink and TEENY (FREE) ReadMe1st | ReadMe2nd | DL-ARC.EXE 11-Mar-05 | Screen Shot

To download the dl-arc.exe file, right click your mouse, select "Save Target As..." and direct the file to a folder you previously created called "root", i.e., c:\root, or save to a diskette. This is an archive file that when run will dump out all its files.

Download this self deARCing program, place it in a sub-directory named C:\ROOT, of your PC and run it. Once deARCed, you have just what you need. You have "tpdd emmulator" software called DeskLink that allows you direct access to your PC drives from any "Master" software in your 100, 102, 200 or NEC PC8201A. The Master can be a DOS or DOS loader in your laptop that ordinarily operates with a directly connected TPDD or TPDD2 as its slave. It can be URII, Sardine, or TS-DOS on ROM. You also have TEENY.EXE so you can get going quickly. TEENY.EXE injects a simple Master, named TEENY.CO, into Tandy laptop Models 100, 102 and 200. And you have the documentation for TEENY and DeskLink. Note: THE VERY BEST Master to use with DeskLink is TS-DOS on ROM.

CompLink Cable Cable Diagrams

You will need a full-null cable for Model T to DOS connection. The Cable Diagram will shows the connections needed (crossing DSR/DTR and RTS/CTS lines as well as send/receive). This is called "Full Null". Club100 no longer provides CompLink Cables as a standard item, but if you are in dire need, contact Ken (ken@club100.org) and I'll see what I can do.

TS-DOS on ROM ... Traveling Software

TS-DOS Documentation
The very best ROM-based disk operating system for the Model 100, 102, 200 and NEC PC8201A ... connecting to a TPDD or TPDD2 (compatible with both drives) and for use with DeskLink. Save and Load .DO (ASCII), .BA (tokenized), and .CO (machine language) files by just pushing a button! Features include file tagging, disk-file viewing without loading, BASIC disk-file routines. Direct drive access from BASIC and TEXT. TS-DOS is now availalbe only via REX ... Stand-alone option ROMs are no longer sold by Club100. Note: Cold-start recover routine built-in to the TS-DOS ROM for the 100/102 and 200. Docs available via download, only.
---
FULLY RECONDITIONED/WARRANTED
MODEL 102, 100, 200 COMPUTERS
TPDDs and TPDD2s
Want a Model 102, 100 or 200? Concerned about getting a lemon from a private party or ebay? Need several? No problem! Club 100 offers fully reconditioned Model 102s, 100s and 200s, and TPDD and TPDD2 disk drives, warranted for 90 days from purchase. Each unit is completely disassembled, serviced, cleaned, reassembled and application tested before sale. See below for models available.
Model "T" Computers ... Club 100 is well known for its support, quality and attention to details. All Model "T" computers purchased from Club 100 have been fully tested, cleaned and retested, and carry a 90 day full money back or replacement warranty. My computers have to be the best. I serve picky customers who use our computers in the most remote place such as the middle of the ocean doing research or as space satellite control units. In these cases, the computer must work.

A word about the three grades of computers I offer:
There is a big difference between a "Pristine" a "Like-New" and a "Shop-Grade" computer. These are my terms. A "Pristine" unit has, for the most part, never been used or used so little that there are no signs of ware. A "Like-New" unit has been used but looks like it has not unless you look closely. For the most part, a "Like-New" unit appears to be unused. A "Shop-Grade" is obviously used. It shows ware, and although the unit is cleaned, it does not look great. My "Shop-Grade" units are intended to be out of sight, in use in a shop or in a machine room.

Model 102s

Pristine 32K (none available at this time): never used - $350
Like-New 32K (several in stock): excellent condition - $250
Shop Grade 24K (some in stock): excellent on the inside - outside worn but clean - $150

Model 100s

Pristine 32K (maybe available): never used - ask first
Like-New 32K (a few in stock): excellent condition - $150
Shop-Grade 24K (a few available): excellent on the inside - outside worn but clean - $75

Model 200s

Normal Condition (maybe available): ask

---

Repair and Reconditioning Servcice for
Model 102, 100 and 200 Computers
TPDD and TPDD2 Disk Drives

Need your Model "T" repaired? A few of us on the list are good with a soldering iron and may be able to help, though Club100 no longer officially offers R&R services. Contact us on the Club100 mailing list and we'll see if we can help.

Sending equipment for R&Ring?

Packing correctly is the key. If you are sending a 100/100/200 or a TPDD or TPDD2 in for R&R, wrap it in bubble and pack it in a box that is 2 inches larger in all directions. Fill the void with packing peanuts, waded paper or other such "flexible" filler. DO NOT ASSUME ANYTHING! ... and protect yourself with shipping insurance. While Club100 doesn't really offer R&Ring services since Rick's passing, some of us on the Club100 mailing list are pretty good with a soldering iron. Contact us on the mailing list and we'll let you know if we can help.

---

CDS ... DOCUMENTATION & PROGRAMMING

Portable 100 Magazine 2, CD Set

Within these two CDs resides digital copies of the magazine that chronicled the history of the Tandy/Radio Shack Model 100, 102 and 200 There has never been, nor will there ever be, a more significant computer series. A special thanks goes to Professor Charles Good, Venedocia, OH, for scanning the entire collection of Portable 100 Magazines in the winter 2002/2003 for the benefit of all concerned. Now all Model 100/102/200 owners, world wide, can relive the golden age of Model 100 computing. $30.00




---

PARTS is PARTS

Replacement Internal NiCD Battery

When your Model 100, 102 or 200 does not turn on or function correctly, the first place to look is your old, internal NiCD battery. De-solder out the old one and solder in a new one. BAT,NiCD,3.6V,60mAh,2 PINS $6.00

Replacement LCD Panels

Available for the Model 100, 102 and 200 ... tested! $40.00

Replacement Keyboards

Available for the Model 100, 102 and 200 ... tested! $50.00

Replacement Disk Drive Belts ... yes, we still have the replacement belts in stock. After two years I finally had to reordered. The price went up but only slightly.

This belt fits both the tpdd and the tpdd2. $7.00


EXPANSON RAM

Expand your possibilities! A fully expanded Model 100 or 102 has 32K RAM. The Model 200 can be expanded to 3 banks of 24K each. Try our new 2x24K Model 200 RAM module. One module gives you both banks and you save money over OEM units. Go ahead and place your order. If I am out of stock I will email you and your order will be next in line on the waiting list. If I have the RAM in stock I will ship, of course.

Model 100 8K RAM Module $25.00
NEC PC8201a 8K RAM Module (same as Model 100) $25.00
Model 102 8K RAM Chip $25.00
Model 200 24K RAM Module $40.00 ea / none available

Model 200 2x24K RAM Module $60.00


...you save $20!! over 2 OEM units.
Installation Documentation ... it's easy!




---

ACCESSORIES

Phone/Modem Cable

Come on-line and enjoy. For Model 100/102/200 owners. $10.00

Printer Cable

Print to all parallel printers. For Model 100/102/200 owners. $12.00

AC/DC Adaptors

Original Tandy or TRS-80 Cat No 26-3804 AC Adaptor ... Input: 120V AC 60Hz 8W ... Output: 6V DC 400mA ... Negative Center Coaxial DC Power Plug 5.5mm OD / 2.1mm ID (same as Cat No 274-1569A). For Model 100/102/200 and TPDD/TPDD2 Disk Drive owners. $12.00

Vinyl Cover

Original black vinyl slip cases. Different for Models 100 or 102 (M200 cases no longer available). State model when ordering. $10.00