Club 100 at the
Computer Show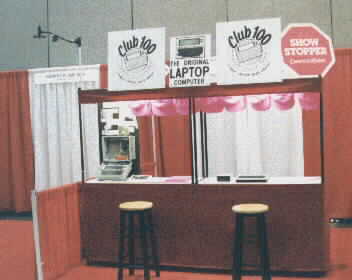 By Richard Hanson
10-Mar-97
In the early 90's Club 100 had a booth at the West Coast Computer Fair, Mosconi Center, San Francisco. The booth's structure was industrial shelving. White plastic established the display surface, and red cloth finished off the look.
We added some bar stools so folks could sit down and relax at our booth. This attracted lots of people--they saw the stools and came over just to get off their feet!
We needed something colorful to sell and further attract folks to the booth, so we purchased a bunch of pink hats with the Club 100 logo silk screened in black ink. We hung all the hats from the upper shelf. Light coming through the pink hats cast an interesting pink glow on the white surface.

To "cap-off" the booth, we invited Tracy Allen, president of EME Systems in Berkeley, CA to display one of his OWLs (Onsite Weather Loggers). His OWL display, with a battery driven weather vane spinning in a windless room, high in the air, attracted attention to the booth and to what Model 100s can do in industrial applications. FYI: Some OWLs in the mid-west log into the Club 100 BBS nightly to upload their daily load of data.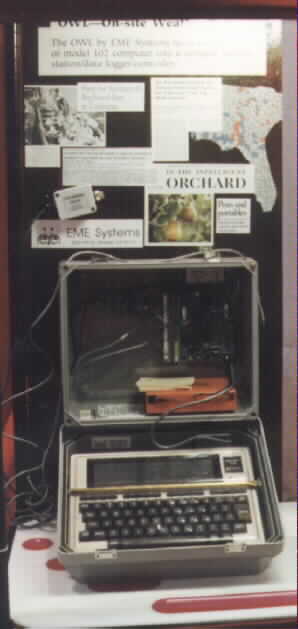 ---
Here is a close-up shot of the OWL display.
Tracy has successfully sold these units world wide. They work very well... as they should. Tracy's work is flawless!
Tracy has lots of info. about the OWL's and their "Hoot!" software that he will gladly send you.
Here is the EME Systems logo... cute huh?

EME Systems
2229 5th Street
Berkeley CA 94710
(510) 848 5725 wrk
(510) 848 5748 fax
Dr. Thomas Tracy Allen
www.emesystems.com
Note: EME Systems also manufactures the ROMBO, extRAM and XR4 products for Model 100, 102 and 200 computers.

There's more! Keep scrolling down...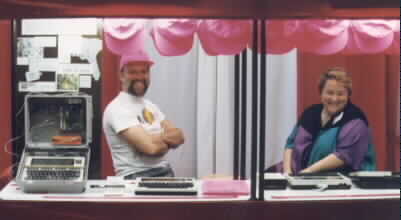 ---
Hey! ...there's Club 100 members, Tracy and Betty.
Both are Club 100 members . . . just like all Model "T" computer owners.
Tracy and Betty helped out in the booth for the entire four days of the show. What troopers!
Aren't those attractive hats? :-)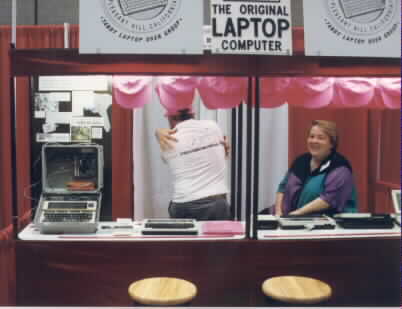 ---
Looks like Tracy found a friend.
No wait! That's not a another person he's making out with.
What a joker. Tracy found himself!
Ahmmm... I think we'd better move on. We wouldn't want to disturb the loving couple. :-)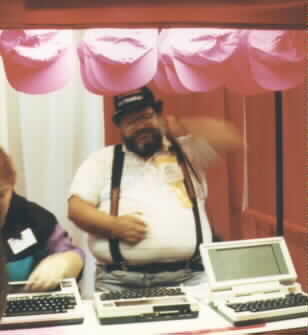 ---
Well, well if it isn't Joe "BIG JOSE" Stephan.
Joe is a famous photo journalists in the motorcycle and auto-racing world. Joe once did a cover-feature for Portable 100 Magazine.
Joe is always on the road with his completely portable set-up. He even calls into online services via a Model 100, 102 or 200 (he has them all) attached to a cell-phone.
You may contact Joe at BluesAnimal@yahoo.com.
E-mail Joe. Write that you saw him in living color, online. It'll freak him out! :-) And tell him you think he would look good in a pink hat?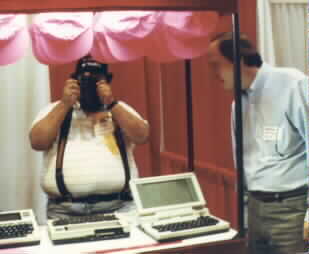 ---
Smile! You're on Joe's ... "candid camera."
And who is that on Joe's left (your right)?
Wow! ...it's Club 100's Online Librarian, Robert Benson.
I bet Robert is giving Joe some photo-tips.
Robert always takes the opportunity to gives advice--even if you don't want it.
Ouch! ...I'm going to hear it for that wise crack.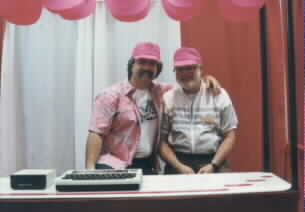 ---
This is my friend Bill Clyde.
Bill is a special friend. Acting in his capacity as the training director for the Presidio of San Francisco during the '80s, he hired me as the computer training contractor. Bill was great to work for, and is a good friend.
Bill's hobby is acting . . . but is always type-case as "a gentleman with a beard."
Why is that, I wonder?
Perhaps when you attend a play in San Francisco you will see Bill. Just look for the gentleman with a beard.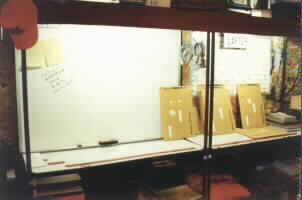 ---
It was a good show. Everyone had a great time.
The booth became the packing and shipping department in the Club 100 warehouse.
Today, the booth (and the hat) are constant reminders of the fun we had at the show, all the wonderful friends and club members who served, and all those who dropped by to say hi and who were influenced by the display and fellowship.
Nice hat!
- The End -